All natural Lorena Canals rugs and cushions enhance decor with a variety of designs
buzzz worthy. . .
SPRING CLEANING IS A BREEZE WITH LORENA CANALS WASHABLE RUGS AND CUSHIONS
Eco-friendly Lorena Canals Is Here To Lend A Helping Hand: Say Goodbye To Dirty Rugs and Big Dry Cleaning Bills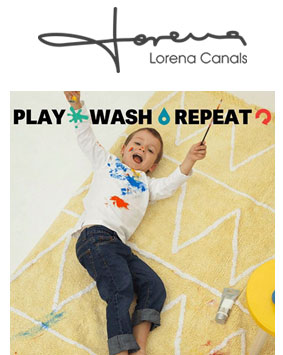 The air is fresh, flowers are blooming, spirits are lifted and homes get spring cleaned. Spring is officially here! Even if you do a weekly house cleaning, chances are you've neglected some of the smaller details in your home that don't get scrubbed as often like ceiling fans, windows, TV screens, ceiling corners, ovens and rugs.
Saying goodbye to dirt and clutter is an incredibly liberating experience.
Months of winter and indoor play dates mean your rugs could use a good cleaning. Instead of spending hundreds of dollars on professional cleaners, check out Lorena Canals beautiful, hand made, all natural rugs and cushions that have made cleaning easy peasy and affordable. Simply throw them in the washer and voila, your rug is as good as new! Let's face it, kids can be messy so Lorena Canals decided to make the clean up just a little easier by launching their innovative, washable rugs. Moms and dads everywhere are jumping for joy!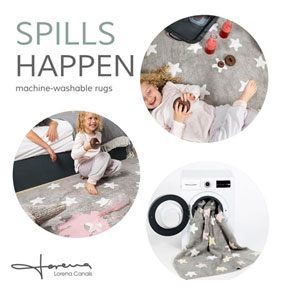 Want to change the look and feel of a room in a flash? Look under your feet or where you sit. Placing (or replacing) a rug or cushions are the fastest and easiest way to give a room a make over.
Lorena Canals
'
rugs and cushions
are beautifully handmade, all-natural, and claim to be good for the environment and great for your kids! The wide range of color options and flexible styles can work in any room. Check out a few of their designs below: